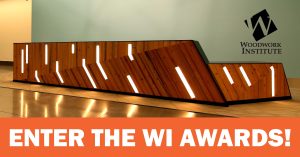 The Woodwork Institute is accepting entries for its annual awards programs honoring design and craftsmanship excellence in architectural millwork.
For architectural millwork shops — The Ralph B. McClure Craftsmanship Award recognizes woodworkers and millwork fabricators for excellence in installing and/or fabricating millwork for building interiors.
For architects and other design professionals — The Bernard B. Barber Jr. Award for Excellence recognizes architects or other design professionals for projects where architectural millwork is a predominant feature in a building's interior.
Winners will receive wall display art with photos of their project, be featured on the Woodwork Institute website, and be promoted through WI's social media channels.
Submission are accepted year-round, and must be received by April 30 for the 2019 awards.
For more information on all the WI awards, visit woodworkinstitute.com/recognition.