Recent Winners of the Bernhauer Scholarship
Click on their name or photo to learn more about their plans for a career in the architectural millwork industry.
WI Bernhauer Scholarships are open to individuals interested in pursuing or furthering a career in the architectural millwork industry. Application may be made by students entering or continuing enrollment in a university, state or private college, community college, or trade school, or from individuals already working in the industry.
Applicants must:
Be in their senior year of high school, or
Be employed and maintain employment during the educational period, or
Be currently enrolled in a state college/university, private or community college, or a trade school.
Basis of Award
Selection of a recipient will be on an achievement or merit basis as determined by transcripts and moral and leadership qualities. Finalists will undergo a personal interview (by phone if necessary). The amount of monies available will be determined at the time a recipient is chosen. Scholarship monies will be distributed directly to the school of the student's choice upon receiving proof of enrollment; however they must be distributed within two years of award or they will be forfeited.
Application Submittal and Deadline
Applications must be postmarked by May 1 for scholarships awarded by September.
C.E. Bernhauer Jr. Scholarship Foundation
Announced by the Woodwork Institute in 1997, the Woodwork Institute/C.E. Bernhauer Jr. Scholarship Foundation was the brainchild of the Institute's Chief Executive Officer Emeritus, Mr. Bernard (Bernie) B. Barber Jr. The program honors Mr. C.E. (Ed) Bernhauer Jr. of Fresno Planing Mill, a longtime active and supporting member of the Institute. Mr. Bernhauer served as Woodwork Institute Treasurer and chaired the Technical Committee (responsible for publication and maintenance of the Manual of Millwork) from 1984 until his untimely death in 1993.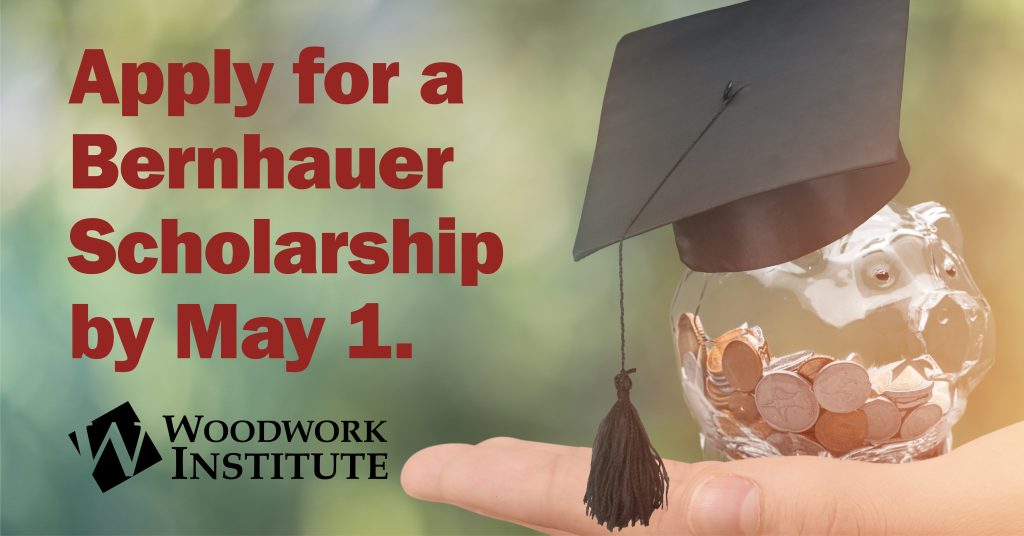 Support the Scholarship Foundation
Help build the future of the architectural millwork industry.
Learn More