The Woodwork Institute certified your project, now show it off!
The Woodwork Institute Awards Programs honor design and craftsmanship excellence in architectural millwork.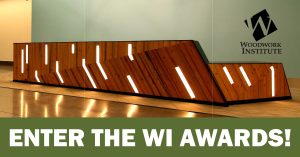 Winners will be featured on the Woodwork Institute website and promoted through our social media channels.
Is your project extraordinary? Submit it for consideration. Submission are accepted year-round, and must be received by April 30 for the 2019 awards.
Recent Winning Projects
Click on an image to learn more about the project.
Other Awards
The Wilbur L. Johnston Award Program honors specification writers for exceptionally written project specifications in which Woodwork Institute quality assurance options are a predominant feature.
The C.E. Bernhauer Jr. Scholarship program is open to individuals interested in pursuing or furthering a career in the architectural millwork industry.
The Woodwork Institute Fellowship Award honors individuals for their lifetime of significant achievements and service to the woodworking industry.